MONTE NEWS FLASH - June 2017
From left to right Melissa Mathieu, Christian Allgeyer, Gerry Mestre, June Anderson, Patricia Beasley, Douglas Anderson.
News from Monaco
I had a very good meeting with the Automobile Club de Monaco last week and there are some very interesting and exciting new developments for the 2018 Monte. In particular ACM wish to develop the Classique and encourage new entries. They are also keen to develop the route through the UK to make the event more interesting for the competitors and raise the profile of the Monte in the UK. All the indications are looking very good for the 2018 Monte.
To date we have had a high level of interest for next year with some interesting cars. Once more the organising committee hope to be able to provide one night free accommodation in the UK for competitors. The 2018 route through France will be different from 2017. After leaving Calais the competitors will drive straight to Valence rather than continuing on to Monte Carlo. This will make it a shorter distance on that section of the Rallye. The regulations and draft itinerary for the Rallye will be published by ACM in July.
For 2018 there has been a change in the cut-off date for eligible cars. The cut-off date will be 1969. This opens up a lot more possibilities for suitable cars. The route will be the same as the Historique to Valence, where Classique entrants will have an overnight stop with accommodation and buffet included in the entry fee. After Valence they will follow a traditional Monte route which will incorporate many of the traditional 'cols' including the iconic Col de Turini, before they arrive in Monaco. Entrants will be given cards which can be stamped by the officials at the time/passage controls, but there will be no time penalties and visiting these controls will remain optional. To finish the event off, overnight accommodation and a finish buffet will also be provided in Monte Carlo. I am sure you will agree that at the same cost as in the previous two years, 1500 euro, this is great value for money, with one night accommodation in the UK, two nights accommodation in France, two buffets and the usual goodies.
Monte Heritage Runs 2018
In the previous Monte News Flash we announced that there would be a new Heritage Run in 2018. It may come as a surprise to many of you that Aberdeen was a Start Town for the Monte Carlo Rally before the second world war. In recognition of this, we will have a Heritage Run from Aberdeen to Paisley Abbey, starting on the morning of the Monte Start. The route will take in the Cairn O' Mount and other traditional rally roads. This will give our friends from the north-east the opportunity to enjoy the experience of a Monte Start. There will of course be the traditional Heritage Run to Dumfries along with at least one, possibly two more runs which will be announced at a later stage.
Jock's Run (An Ayrshire Amble) - Sunday 18 June 2017
RSAC Motorsport Ltd in association with Monte Start Committee (MSC)
This year we have a new format for the event. We have dropped the Production car auto tests in favour of more light-hearted tests and observational involvement for the co-driver. A change of venue: the Morris Equestrian Centre near Fenwick, which will host the start and finish, has allowed us to create an interesting route in North and East Ayrshire which we hope will be enjoyed by drivers and passengers of cars of all ages.
Entries are now open for this event.
Access the Regulations and Entry Form hear. The cost of £39 includes a Tulip Road Book, rally plate and a two course evening meal for two persons at the finish.
The maximum number of entries is 60 which will be accepted in order of receipt. No e-mail entries will be accepted.
Monte Classique 2018
I have just been informed by ACM that the Rallye Monte Carlo Classique will run again in 2018, but with some changes. It will follow the same format as previous years, ie it will use the same route as the Historique down to Monte Carlo visiting the same controls, but with no time penalties, the goal being to arrive in Monte Carlo in time for the party! To reflect the early Montes, the Classique will be open to cars of a type which did the Monte between 1911 and 1960. The Classique will follow a traditional Monte Carlo Rallye route through the UK with traditional Passage Controls. A wiggle-waggle driving test will also be included. So there is plenty of time for all the budding adventurers out there to get a suitable car and lots of time to prepare it for the Rallye. Period attire, such as plus fours, duffle coats, sports jackets, shirts and ties will be the order of the day!
Monte Heritage 2018
Following on from the success of the new Stirling Heritage Run, we are proposing the introduction of an additional Run, starting in the north and following an interesting route down to Paisley Abbey. Crews will drive from the new start to the Monte Start, take their place in the Heritage Paddock, then drive over the ramp after the ACM entries have gone. They can then join one of the other Heritage Runs, if they wish. We hope that this will appeal to those of you who have taken part in previous runs and are looking for a new challenge and new route. Watch this space for more information about this exciting new development for the Monte Heritage Runs 2018.
monte.scot
The monte.scot website has been refreshed and updated, by our webmaster Craig McGibbon and a new link has been established to the Automobile Club de Monaco website. The Regulations for the 2018 Monte Historique and Classique will be published in July. The countdown has started.
Douglas Anderson Co-ordinator Start and UK Leg, Rallye Monte Carlo Historique and Classique.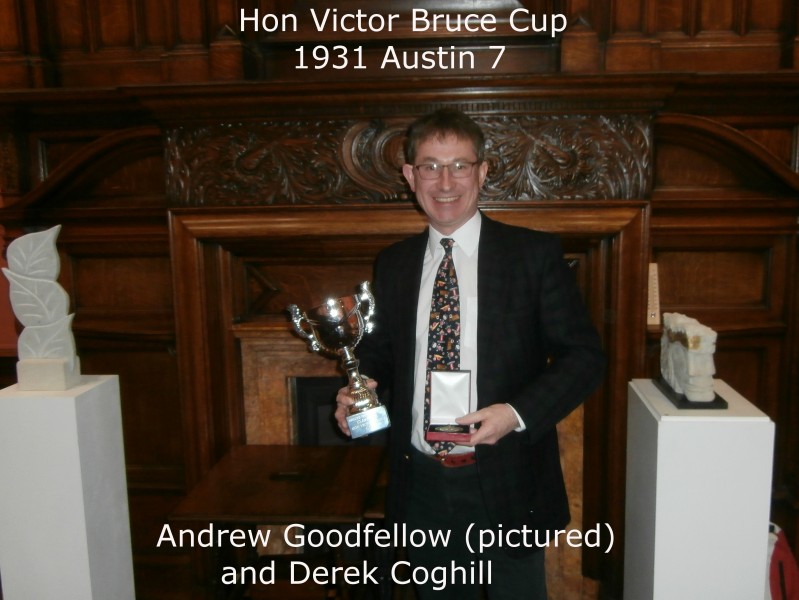 31January/ 1 February - day 7 into day 8 & 14 ZRs (average speed tests)
Eight of the nine Historique starters from Paisley Abbey completed all 14 test stages (ZRs) congratulation to all for completing the task and in particular to Ranald White & Karsten Brown who crewed car 296 a 1964 Rover 2000 TC finishing as the best placed UK starters.
:- below is a summary of how all the crews were placed overall :-
ZR#10
292
ZR#11
291
ZR#12
289
ZR#13
284
ZR#14
274
55
Opel Kadett GTE
222
218
218
227
224
114
Ford Escort RS 2000
273
269
268
266
263
137
Fiat 124 Coupe
229
229
227
215
210
188
Fiat 127 Abarth
243
240
236
239
228
222
Volvo 122S
268
266
263
261
258
224
Austin Mini Cooper
236
233
230
235
230
225
Austin 1800
278
277
274
276
DNF
231
MG B
252
249
247
243
231
296
Rover 2000 TC

180

179

175

171

169
30January - End of day 6 & 9 ZRs (average speed tests)
ZR#6
300
ZR#7
300
ZR#8
298
ZR#9
294
55
Opel Kadett GTE
245
241
235
229
114
Ford Escort RS 2000
288
287
280
273
137
Fiat 124 Coupe
251
246
240
236
188
Fiat 127 Abarth
258
257
254
246
222
Volvo 122S
281
278
273
268
224
Austin Mini Cooper
241
237
234
234
225
Austin 1800
290
284
282
281
231
MG B
268
264
261
254
296
Rover 2000 TC

144

162

170

188
29 January - End of day 5 & 5 ZRs (average speed tests)
ZR#1
316
ZR#2
312
ZR#3
312
ZR#4
309
ZR#5
303
55
Opel Kadett GTE
189
174
149
185
259
114
Ford Escort RS 2000
268
267
259
282
286
137
Fiat 124 Coupe
245
298
263
259
256
188
Fiat 127 Abarth
284
268
234
271
262
222
Volvo 122S
311
305
265
284
280
224
Austin Mini Cooper

148

197
219
256
253
225
Austin 1800
261
238
261
289
287
231
MG B
253
256
228
254
249
296
Rover 2000 TC
172

127

103

128

136
2017 - Rallye Monte Carlo Historique and Classique and support vehicles
| | | | | |
| --- | --- | --- | --- | --- |
| Number | Driver | Co-pilot | Car | Year |
| 00 | C McGibbon | H McGibbon | Volvo 122S | 1965 |
| 0 | D Anderson | J Anderson | MG Midget | |
| | | | | |
| Historique | | | | |
| 55 | G Glen | D Glen | Opel Kadett GTE | 1978 |
| 114 | D Glen | A Sturgess | Ford Escort RS 2000 | 1978 |
| 137 | J Roberts | O Tomlins | Fiat 124 Coupe | 1972 |
| 188 | D Power | A Atwal | Fiat 127 | 1973 |
| 222 | A Thomlinson | J Wilson | Volvo 122S | 1969 |
| 224 | P Haley | M Hyrons | Austin Mini Cooper S | 1966 |
| 225 | S Hutton | F Bent | Austin 1800 | 1965 |
| 231 | D Pengilly | M Denham | MGB | 1966 |
| 296 | R White | K Brown | Rover 2000 SC | 1964 |
| | | | | |
| Classique | | | | |
| 400 | G Best | D Hendrie | Rover 100 P4 | 1960 |
| 401 | A Goodfellow | D Coghill | Austin 7 Ulster | |
| 404 | C Dawson | M Barlow | Sunbeam Stiletto | |
| 405 | I Glass | N Ward | Ford 103E | |
| 407 | F Lamotte | R Lamotte | Austin A35 | |
| 408 | W Murray | S Farquhar | Ford Cortina Mk I | |
| 409 | M Hanson | P Lequeux | MG YB | |
| | | | | |
| 2021 | J Meggatt | N Breach | Chrysler Sunbeam | 1978 |
Monte Update - 5 December 2016
Our latest Monte get together on Friday 2 December at Glasgow Art Club was a great success and much appreciated. In particular Craig's 'teach in' for Monte newcomers was very informative. Thanks to Craig, Jonathan Lord, Ian and Catherine Higgins, Brian Telfer and of course Glasgow Art Club for making it all possible.
The next pre-Monte event is the Col de Ruisg where you will have the opportunity to brush up your skills and try out your car. More information below.
Col de Ruisg 14 January 2016
The Col de Ruisg will take the form of a Monte-style event over some 50 miles without the competitive element. Using similar mountain roads, you will be able to test your navigation and map plotting skills and practice teamwork between the navigator and driver. The event is open to anyone who would like to do it – whether you have entered the Monte or not.
Access the
Rrgulations
R
and
Entry Form
E
hear. The cost of £15 covers the MSA permit and administration costs of the event, including a rally plate, numbers and necessary documents. If there is a demand, High Tea can be arranged before the event at the 'signing on' venue. Please let the secretary of the event, Craig McGibbon know. Craig's email address is
cnh.mcgibbon@gmail.com
Passage Control Barnby Moor
Great news, we have managed to negotiate our night halt at the Olde Bell Inn, Barnby Moor, so instead of staying at Wetherby Services we can go straight to the Passage Control and stay overnight. This should make life much easier for everybody and it is a very comfortable 4 star hotel.
20 October 2016 - Press Launch in Paisley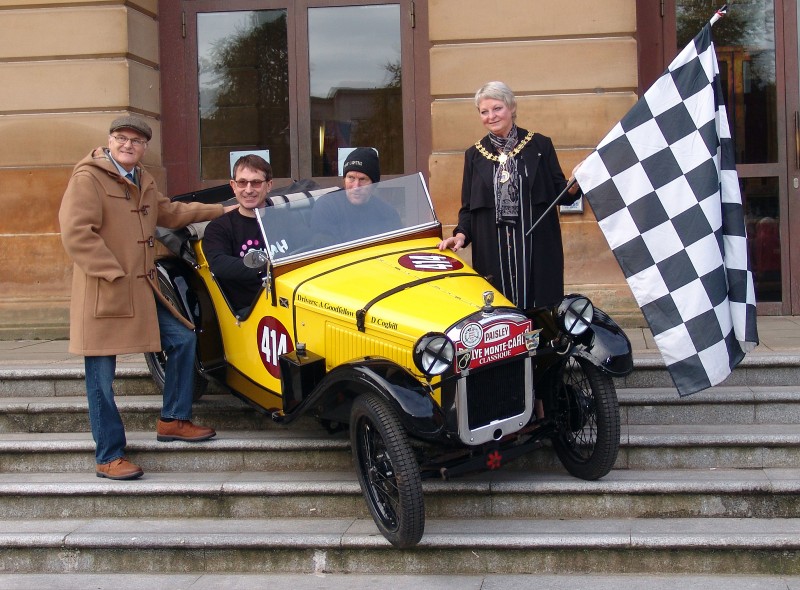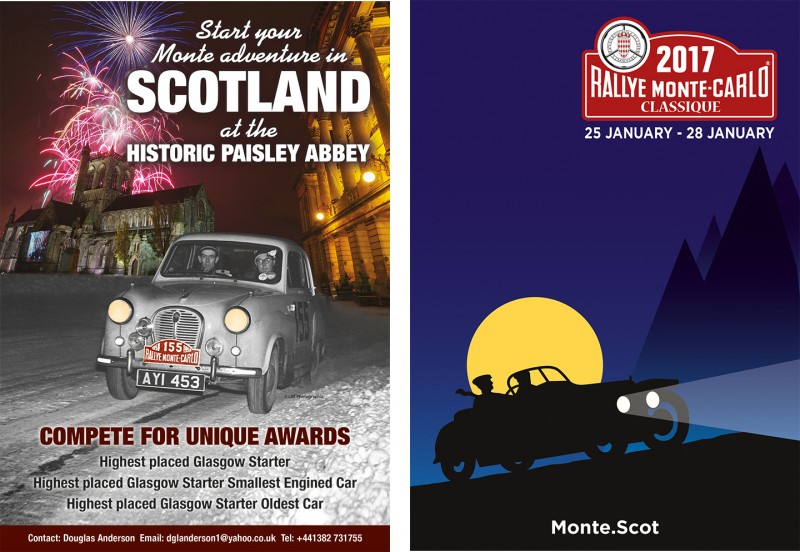 Paisley Abbey is the magnificent backdrop for the Start of the 2017 Rallye Monte Carlo Historique and the Rallye Monte Carlo Classique. The cars will leave the Start Ramp from 6.00pm on 25 January 2017. There promises to be a stunning display of classic rally cars as well as entertainment and street food organised by our friends at Renfrewshire Council. The Paisley Abbey Start will once more be the most spectacular of all the Rallye Starts with lights, music, fireworks and a crowd of 10,000 cheering each and every car off the ramp and on their way. This is an event not to be missed.
Regulations & Entry Forms for the 2017 Heritage Runs are now available on Heritage Page of this WEB site.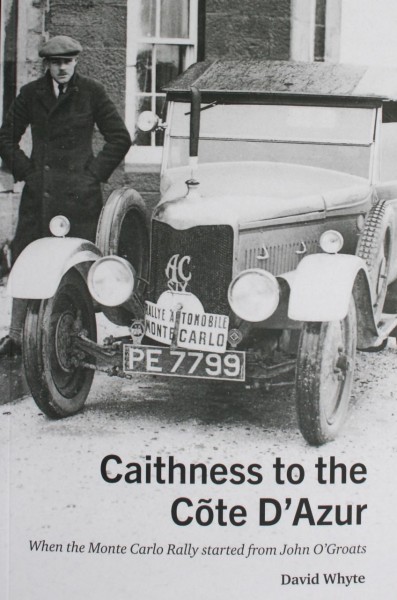 Caithness to the Côte D'Azur
When the Monte Carlo Rally started from John O'Groats
David Whyte
Many excellent books have been written about the Monte Carlo Rally but despite the fact that the first British winner started the rally from Caithness in 1926, the Scottish connection during the pre war years has been largely overlooked. This may be due to the lack of an overall winner from among the John O'Groats starters in subsequent years because of the complex scoring system which made it virtually impossible for them to achieve outright victory. However it was still a considerable feat to complete the non-stop journey from the north of Scotland to the south of France in the depth of winter.
The cars were not the specialised racing machines of today - most were identical to the models which customers could buy from the showroom. Many instances of resilience and achievement were shown by more than 200 competitors who started from Caithness in the years up until 1939. Those men and women who took up the challenge of the 'Monte' have ensured that John O'Groats has a special place in the history of the most famous rally in the world.
This book is a tribute to the skill and determination of the drivers and brings the story up to date with the return of the Monte Carlo Classique event to John O'Groats in 2016.
Copies of David Whyte's book can be obtained from SpeedReading Books at £9.99 plus postage and packaging. http://www.srbooks.com/